We are a small, professional, flexible and friendly business based in Southampton and cover the whole of Hampshire. We specialise in the cleaning of hard landscaping such as block paving, driveways, paths, patios and decking at competitive rates.
Many homes have treated-timber decking as a useful addition to their gardens. Without protection wood rapidly deteriorates right from the following elements: Water: Water is absorbed into the wood and washes out the natural wood resins and colour. Freezing/thaw cycles can splinter and crack the wood. Also water promotes algae, mold, and mildew growth and rotting. Sun Light: Ultraviolet (UV) rays bleaches the wood fibers and breaks down the cell structure. Mold, Mildew, Algae, and Fungus: Wood and moisture are a natural food source for mold, mildew, algae, and fungus. This generally causes a black, green or gray discoloration. Contamination: Contamination comes in the form of food, dirt, atmospheric pollution, etc. This is a good food source for Mold, Mildew, Algae, and Fungus.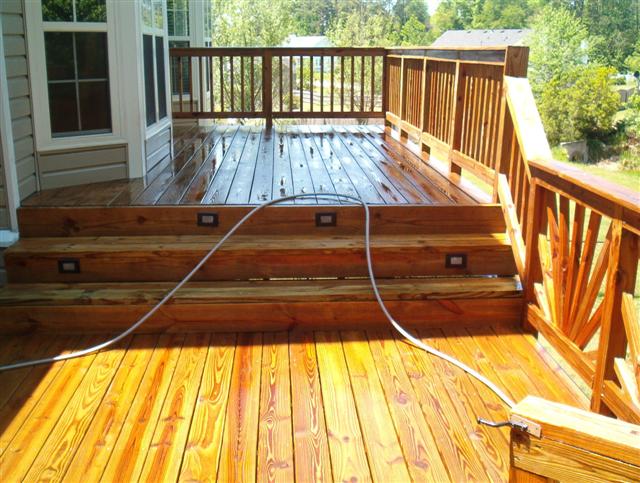 Wood in poor condition reduces the value of a home. Proper cared for wood adds to the value and appearance of a home. The slime created by the fungus and other contaminants can make the decking a hazardous area. The decking can become very slippy and dangerous especially to children and older people. HPWS will examine and clean your decking to the highest standards, making it look good and make it a safe place to enjoy your outdoor living.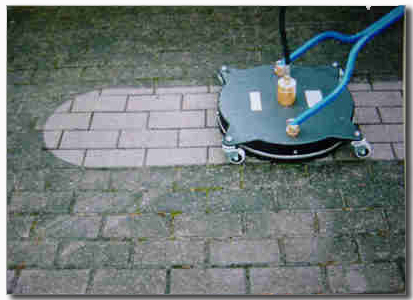 By using the very latest rotary flat surface cleaner connected to a powerful industrial pressure washer unit we ensure that all surfaces are cleaned evenly, we are able to remove years of weathering, pollution, algae, moss, weeds and grime to make your hard landscaping look like new again. If any cleaning chemicals are needed to remove oils diesel etc rest assured they are all biodegradable. All COSHH data sheet are available on request. The rotary flat surface cleaner is fast, efficient and environmentally safe way to clean an array of surfaces including block paving, concrete, tarmac, paving slabs, brick and stone walls and decking. After the cleaning process, not only will your surfaces be safer it will also enhance the appearance of your property and bring back the value of your original investment. HPWS carries PL insurance and our services are available to both private households and commercial property.